Saying 'this year' sounds kind of dramatic but I did this with a purpose.
This way I'm putting less presure (ha, the "presure" to read) on myself but still making a list on what to read. (My to-read list has 446 books on it right now so this way it's easier to choose between all those books).
That explaination was way too long so let's get started: 6 books I want to read this year (in no particular order).
---
Title: 180 seconds

Author: Jessica Park
Genre: New Adult, Romance, Contemporary
Publication Date: April 25th, 2017
Publisher: Skyscrape
Pages: 300 pages
Summary from Goodreads

Some people live their entire lives without changing their perspective. For Allison Dennis, all it takes is 180 seconds…

After a life spent bouncing from one foster home to the next, Allison is determined to keep others at arm's length. Adopted at sixteen, she knows better than to believe in the permanence of anything. But as she begins her third year in college, she finds it increasingly difficult to disappear into the white noise pouring from her earbuds.

One unsuspecting afternoon, Allison is roped into a social experiment just off campus. Suddenly, she finds herself in front of a crowd, forced to interact with a complete stranger for 180 seconds. Neither she, nor Esben Baylor, the dreamy social media star seated opposite her, is prepared for the outcome.

When time is called, the intensity of the experience overwhelms Allison and Esben in a way that unnerves and electrifies them both. With a push from her oldest friend, Allison embarks on a journey to find out if what she and Esben shared is the real thing—and if she can finally trust in herself, in others, and in love
Title: Maybe in Another Life
Author: Taylor Jenkins Reid
Genre: New Adult, Romance, Contemporary
Publication Date: July 7th, 2015
Publisher: Washington Square Press
Pages: 342 pages
Summary from Goodreads

At the age of twenty-nine, Hannah Martin still has no idea what she wants to do with her life. She has lived in six different cities and held countless meaningless jobs since graduating college. On the heels of leaving yet another city, Hannah moves back to her hometown of Los Angeles and takes up residence in her best friend Gabby's guestroom. Shortly after getting back to town, Hannah goes out to a bar one night with Gabby and meets up with her high school boyfriend, Ethan.

Just after midnight, Gabby asks Hannah if she's ready to go. A moment later, Ethan offers to give her a ride later if she wants to stay. Hannah hesitates. What happens if she leaves with Gabby? What happens if she leaves with Ethan?

In concurrent storylines, Hannah lives out the effects of each decision. Quickly, these parallel universes develop into radically different stories with large-scale consequences for Hannah, as well as the people around her. As the two alternate realities run their course, Maybe in Another Life raises questions about fate and true love: Is anything meant to be? How much in our life is determined by chance? And perhaps, most compellingly: Is there such a thing as a soul mate?

Hannah believes there is. And, in both worlds, she believes she's found him.
Title: Plus One (Plus One #1)
Author: Elizabeth Fama
Genre: Young Adult, Science Fiction, Romance
Publication Date: April 8th, 2014
Publisher: Farrar, Straus and Giroux
Pages: 373 pages
Summary from Goodreads

A dying wish. A family divided. A love that defies the law.

Sol Le Coeur is a Smudge–a night dweller in an America rigidly divided between people who wake, live, and work during the hours of darkness and those known as Rays, who live and work during daylight. Impulsive, passionate, and brave, Sol concocts a plan to kidnap her newborn niece–a Ray–in order to bring the baby to visit her dying grandfather. Sol's violation of the day/night curfew is already a serious crime, but when her kidnap attempt goes awry, she stumbles on a government conspiracy to manipulate the Smudge population. Sol escapes the authorities with an unexpected ally: a Ray who gets in her way, a boy she might have hated if fate hadn't forced them on the run together–a boy the world now tells her she can't love.

Set in a vivid alternate reality and peopled with complex, deeply human characters on both sides of the day/night divide, Elizabeth Fama's Plus One is a brilliantly imagined drama of individual liberty and civil rights, and a fast-paced romantic adventure story.
Title: Letter to the Lost
Author: Bridgid Kemmerer
Genre: Young Adult, Contemporary, Romance
Publication Date: April 4th 2017
Publisher: Bloomsbury USA Childrens
Pages: 400 pages
Summary from Goodreads

Juliet Young always writes letters to her mother, a world-traveling photojournalist. Even after her mother's death, she leaves letters at her grave. It's the only way Juliet can cope.

Declan Murphy isn't the sort of guy you want to cross. In the midst of his court-ordered community service at the local cemetery, he's trying to escape the demons of his past.

When Declan reads a haunting letter left beside a grave, he can't resist writing back. Soon, he's opening up to a perfect stranger, and their connection is immediate. But neither Declan nor Juliet knows that they're not actually strangers. When life at school interferes with their secret life of letters, sparks will fly as Juliet and Declan discover truths that might tear them apart.
Title: Paper Princess (The Royals #1)
Author: Erin Watt (Pseudonym), Elle Kennedy, Jen Frederick
Genre: Romance, New Adult, Contemporary, Young Adult
Publication Date: April 4th 2016
Publisher: Timeout LLC
Pages: 370 pages
Summary from Goodreads

From strip clubs and truck stops to southern coast mansions and prep schools, one girl tries to stay true to herself.

These Royals will ruin you…

Ella Harper is a survivor—a pragmatic optimist. She's spent her whole life moving from town to town with her flighty mother, struggling to make ends meet and believing that someday she'll climb out of the gutter. After her mother's death, Ella is truly alone.

Until Callum Royal appears, plucking Ella out of poverty and tossing her into his posh mansion among his five sons who all hate her. Each Royal boy is more magnetic than the last, but none as captivating as Reed Royal, the boy who is determined to send her back to the slums she came from.

Reed doesn't want her. He says she doesn't belong with the Royals.

He might be right.

Wealth. Excess. Deception. It's like nothing Ella has ever experienced, and if she's going to survive her time in the Royal palace, she'll need to learn to issue her own Royal decrees.
Title: A Court of Thorns and Roses (A Court of Thorns and Roses #1)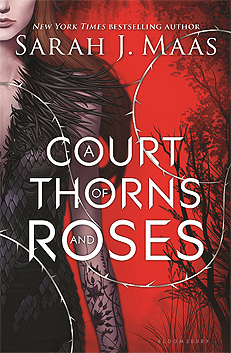 Author: Sarah J. Maas
Genre: Fantasy, Young Adult, Romance, New Adult
Publication Date: May 5th, 2015
Publisher: Bloomsbury USA Childrens
Pages: 421 pages
Summary from Goodreads

Feyre's survival rests upon her ability to hunt and kill – the forest where she lives is a cold, bleak place in the long winter months. So when she spots a deer in the forest being pursued by a wolf, she cannot resist fighting it for the flesh. But to do so, she must kill the predator and killing something so precious comes at a price …

Dragged to a magical kingdom for the murder of a faerie, Feyre discovers that her captor, his face obscured by a jewelled mask, is hiding far more than his piercing green eyes would suggest. Feyre's presence at the court is closely guarded, and as she begins to learn why, her feelings for him turn from hostility to passion and the faerie lands become an even more dangerous place. Feyre must fight to break an ancient curse, or she will lose him forever.
---
Still don't know what to read? Check out these other posts for some inspiration:
5 books I want to read this winter
7 books I want to read this summer
Let me know about what you're going to read next/currently reading/want to read/ I could continue this for much longer but I will stop now.
Love,
Manon