Before summer started I made a post about 7 books I want to read this summer. To be honest, summer always seems to be longer than winter but this may be because we don't have to go to school in the summer.
I ended up reading more books than I was planning on reading. (Not that I mind) And to prevent a reading slump from happening, I thought I should make another list but this time… A winter list.
Winter isn't actually starting until the 21st of December (My birthday!!) but I decided to post it now. Why? Because it's cold and it you can almost call it winter.
The spring is stars on the 21st of March and I guess this list will be ending somewhere before that… We'll see! (Written in no particular order)
---
Title: Girl Online Going Solo

Author: Zoe Sugg
Genre: Contemporary, Young Adult, Romance
Publication Date: November 17th 2016
Publisher: Penguin Books Ltd
Pages: 352 pages
Summary from Goodreads

As Penny starts the school year she's ready to face the world – alone. Noah has gone off the radar after ending his world tour early and no one, including Penny, knows where he is. So when she accepts Megan's invitation to visit her performing arts school it seems like an opportunity to make some new friends.

Helping everyone else seems to be the right remedy – Elliot needs her friendship more than ever, and she meets Posey, who she can really help with her stage fright. But is charming Scottish boy Callum the right kind of distraction? And can Penny truly move on when Noah's shadow seems to haunt her round every corner?
I feel like this list needed a Christmas kind of book
 Title: Ex-mas 

Author: Kate Brian
Genre: Young Adult, Christmas, Romance
Publication Date: October 6th 2009
Publisher:  Simon & Schuster Books for Young Readers
Pages: 224 pages
Summary from Goodreads

Two Exes. One holiday adventure. Merry Ex-Mas?

Seventeen-year-old Lila Beckwith's parents just left for vacation, and Lila's all set to throw the holiday party of the season. But when her Christmas-obsessed little brother, Cooper, discovers that global warming is melting the North Pole, he and his best friend, Tyler, take off on a runaway mission to save Santa.

Lila has to get Cooper safely home before her parents get back on Christmas Eve. But the only person who can help her is Tyler's older brother, Beau — a.k.a. Lila's musician, anti-everything ex-boyfriend.

It'll take more than a Christmas miracle for Lila and Beau to overcome their differences and find their fugitive brothers. But could a journey destined for disaster help these polar opposites fall in love…all over again?
This book (Reigntime) was send to me by the author herself and I'm so exited to read it! You can expect a review on this bad boy when I've finished it. 
 Title: Reigntime

Author: S.K. Levy
Genre: Young Adult
Publication Date: July 15th 2016
Publisher: Australian eBook Publisher
Pages: 410 pages
Summary from Goodreads

Lexie Taylor, a seventeen-year-old student nurse in tropical North Queensland, has been assigned a new patient and she's baffled by his odd and uncooperative behaviour. But she finds herself drawn to the enigmatic Myall, who, for the first time since the death of her older brother, reminds Lexie of what it is to be happy.

As Lexie begins to trust him, Myall reveals he is a Reigntime creature—a magical and immortal being from the Awakening—who will die if he remains in hospital. Risking everything, Lexie smuggles him out, and together they travel deep into the dangerous tropics of Kakadu on a mission to locate the key to his survival.

But the dangers that await them will give Lexie a death sentence of her own…
Title: Suite Dreams

Author: Rachel Hawthorne
Genre: Young Adult, Romance, Contemporary 
Publication Date: December 23rd 2008
Publisher: HarperTeen
Pages: 228 pages
Summary from Goodreads

Hello, mate!
(Practicing my Australian.* How am I doing?)

I'm so glad the timing worked out for this couch exchange. I'll be crashing on yours by the time you get to mine.** If you run into any problems, just find Alyssa. She'll help you out with whatever you need.***

Your couch-swapping mate,
Rick

*That's cute. Go have fun in Australia and leave ME—your girlfriend for an entire semester—to waste away on campus, alone.

**Um, think again. Your couch is already taken.

***Great. Now I've got to find a place for the (unbelievably hot, it turns out) Aussie to crash. But there's only one couch available: the one in my dorm room. . . .
Title: Throne of Glass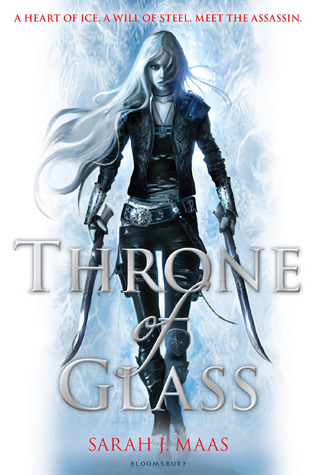 Author: Sarah J. Maas
Genre: Young Adult, Fantasy, Adventure
Publication Date: August 2nd 2012
Publisher: Bloomsbury
Pages: 404 pages
Summary from Goodreads

An alternate cover edition can be found here.

After serving out a year of hard labor in the salt mines of Endovier for her crimes, 18-year-old assassin Celaena Sardothien is dragged before the Crown Prince. Prince Dorian offers her her freedom on one condition: she must act as his champion in a competition to find a new royal assassin.

Her opponents are men-thieves and assassins and warriors from across the empire, each sponsored by a member of the king's council. If she beats her opponents in a series of eliminations, she'll serve the kingdom for four years and then be granted her freedom. Celaena finds her training sessions with the captain of the guard, Westfall, challenging and exhilarating. But she's bored stiff by court life. Things get a little more interesting when the prince starts to show interest in her … but it's the gruff Captain Westfall who seems to understand her best.

Then one of the other contestants turns up dead … quickly followed by another. Can Celaena figure out who the killer is before she becomes a victim? As the young assassin investigates, her search leads her to discover a greater destiny than she could possibly have imagined.
---
I've kept this list fairly short. I decided to do this because who knows. Maybe you'll get some books from father Christmas or maybe you're getting some books for your birthday (hint hint…) This is also might be a busy timing with school and work and books and books and oh hey… More books.
Anyway…
I hope you enjoyed this post and that you now have some bookish inspiration!
Love,
Manon